Taking a good look at suspension with FOX and Brennan Autosport
By Patrick D. Rosso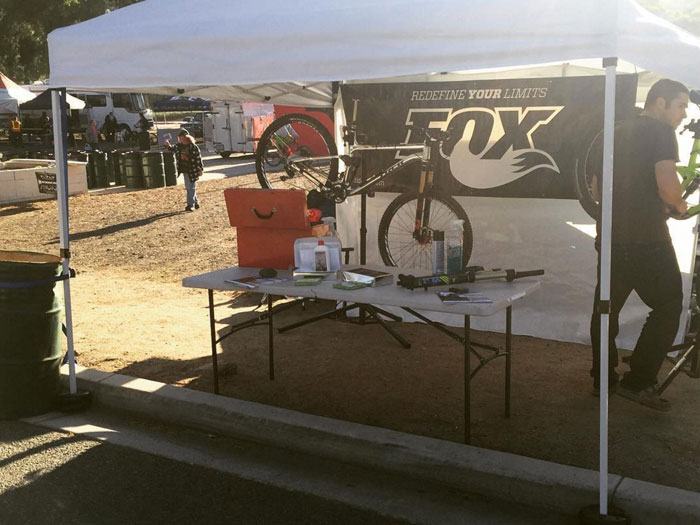 Suspension is a life-saver. Whether it's sucking up ruts at Mammoth or keeping riders upright after a miscalculated huck at China Peak, the forks, shocks, and everything that goes into the suspension are key components of an enduro racer's kit.
There is a litany of reasons riders love their favorite fork or swear by a certain shock, but all components have one thing in common: at some point they need to be serviced. It can be done at home and if you are handy with bikes, it's not that hard, but there's a reason to seek professional help too.
Andrew Brennan, owner of Brennan Autosport, has been soaking his hands in shock oil for some time. A new sponsor for the 2016 California Enduro Series, Brennan is passionate about suspension and its inner workings.
"The first thing I would do is ask if you have any complaints," explained Brennan. "I'd find out where and how you ride and what you are looking for, whether its upgrades and fine tuning or general maintenance."
European upgrades, the latest FOX, Marzocchi, and RockShox forks, or aftermarket seals and oils, he's got you covered.
"Servicing your product does a number of things for you," said Brennan. "It's going to make your product last longer and in the long run you're going get more value out of it."
Although Brennan is a professional and gets the job done with no mess, he said there are a number of tasks that riders can do at home to keep their suspension in good shape.
"You're general fork maintenance, changing bath oil and dust wipers, if you're reasonably mechanically inclined, you can do that yourself," Brennan said. "Honestly, I recommend you do it because it's going to save you money and keep you more up to date on your service."
When you handle customers from all across the West Coast, it's tough to really connect with everyone, but the series allows Brennan a chance to get out, meet, and compete against his customers on team Clif Bar Team BA Sport.
"I like to be out with people and talking to them about their suspension; it's something I'm into. I was looking for a way to be out in the community more and have some fun and the series seemed to me to be a pretty good bang for my buck," added Brennan.
No matter how fresh the seals or clean the oil, the suspension can only do so much without a little tuning. Although tricky at first, the little dials on the fork or shock can make a world of difference.
"Your suspension is going to give you a more comfortable ride and allow you to have more control," explained Mark Jordan, global marketing communications manager for FOX, a 2016 California Enduro Series' sponsor. "The biggest thing we focus on when setting up your suspension is getting proper sag and air pressure."
It doesn't matter the manufacturer, the building blocks to a good suspension tune always start with the sag.
"We usually recommend 20-percent sag for most riders," explained Jordan.  "That bit of suspension sag is going to allow the tire to track the terrain better and give you a lot more control."
Although setting up the sag is just the tip of the iceberg when it comes to tuning, it's a good place for riders to start as they work to improve the feel and responsiveness of their bikes. Luckily, riders are not alone. Fox provides a slew of manuals and videos to help riders tune, service, and maintain their suspension systems.
"We did some technical videos in the past, but they were a little boring, so we've tried to make the last one a little more fun." said Jordan. "It provides the riders a good general starting setup to give them the tools and understanding they need to take care of their own bike."
Jordan and Brennan may see your suspension at different points in its life, but one common theme ties it all together: whether it is a brand new fork or a throwback from 2008, good maintenance matters.
"You have to understand that if you take care of your bike and its components, it's going to last longer and perform a lot better," said Jordan.
More information and helpful tips can be found ridefox.com or at brennanautosport.com.