Rip into course details below to get a better sense of what racers were up against at this burly event
Words by Michele Charboneau
Photos by Called To Creation / Scott and Melody McClain
Special thanks to Matt Guntert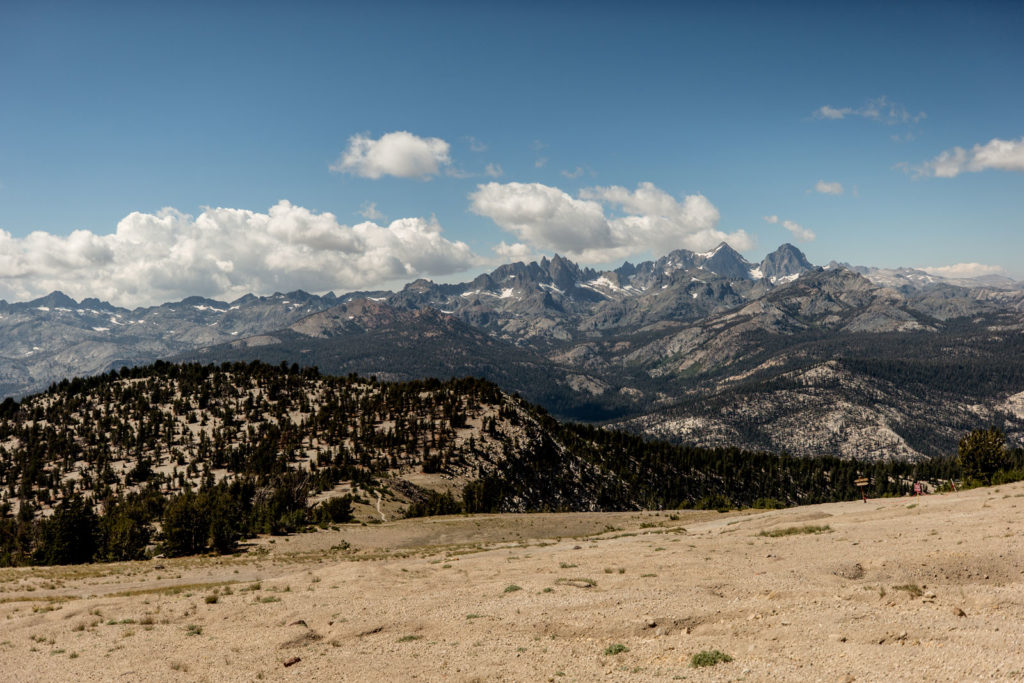 Stage 1: Brake Through to DC10 • 1.99 mile
Race day kicks off with an especially physical stage to get the blood pumping. After a lift transfer to the top of Stage 1, riders drop in to Brake Through, a pedally, rocky track that is mostly hard pack, but layered with Mammoth's trademark pulverized pumice. Tight, loose corners and surprise uphill rock gardens keep riders on their game. The stage veers off onto pro line DC10 – a highly anticipated addition to the course which cranked up the stoke level for this popular race. DC10's steep, loose and dusty start leads into a gnarly rock garden that sport and beginner classes are detoured around. Sprinting out of DC10's super tight corners is crucial to staying ahead of the competition on this stage. DC10 transitions into a singletrack flow trail through the trees, where riders send 20-foot jumps and rail big, beautiful berms and deep, grooved-in pumice corners. Riders boasting both excellent fitness and superior bike handling skills excel on this challenging stage.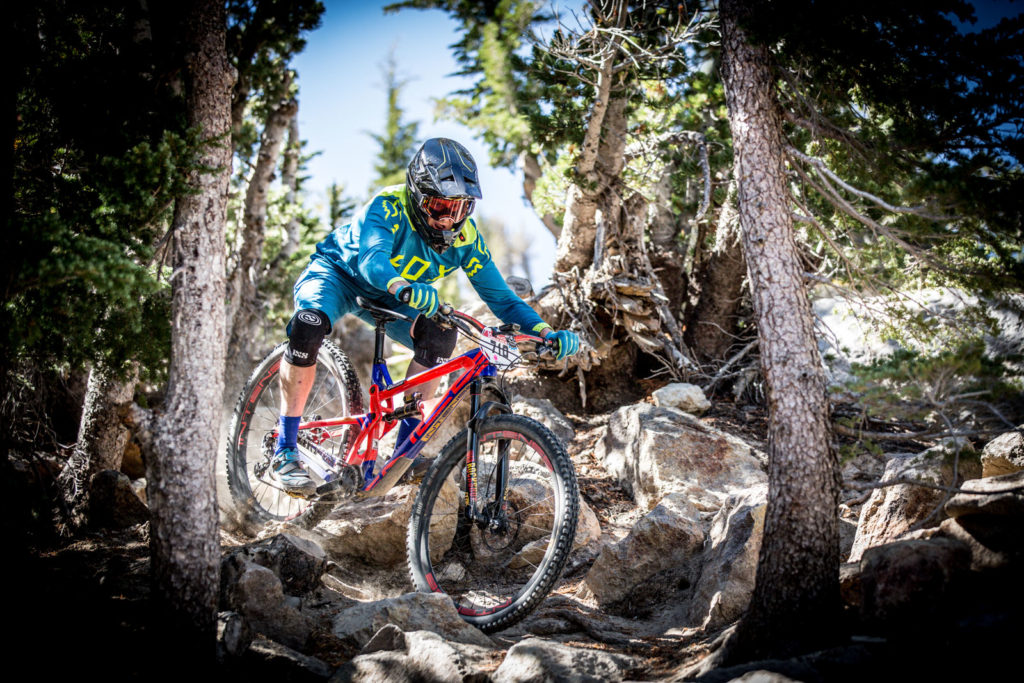 Stage 2: Kamikaze to Shock Treatment to White Bark back to Kamikaze to Richter • 3.32 mile
The event's second stage sends riders off from the very top of the mountain and down the legendary Kamikaze – a ridiculously fast and furious fire road descent on which speeds of up to 55 MPH on enduro bikes have been clocked. It's imperative to set up nice and high for the corners and to be strategic with braking on this track. While Sport and Beginner riders continue on Kamikaze to White Bark, Pro and Expert riders veer off Kamikaze to pick up Shock Treatment – another trail new to this year's course that had racers psyched. Shock Treatment is a short but sweet, steep and deep pumice field that throws in rock garden corners to keep riders on their edge. White Bark puts ear-to-ear grins on exhausted riders with its flowy contours and ideally positioned paver berms. Those grins disappear temporarily as riders sprint a climb of approximately 50 vertical feet before hitting up Richter where, happily the stoke returns as riders drop into "S" paver turns then cross Kamikaze onto a rocky pumptrack-type run. Back for a sec on Kamikaze, it's an uphill sprint to a step-up then it's a return to Richter for a fabulous root- and jump-filled stage finish.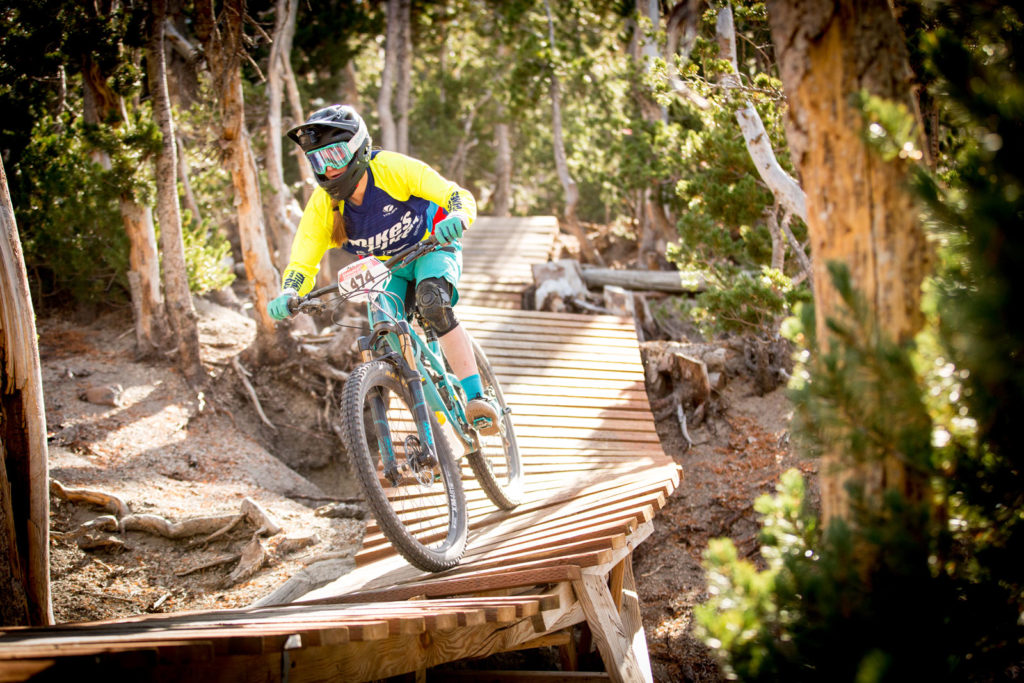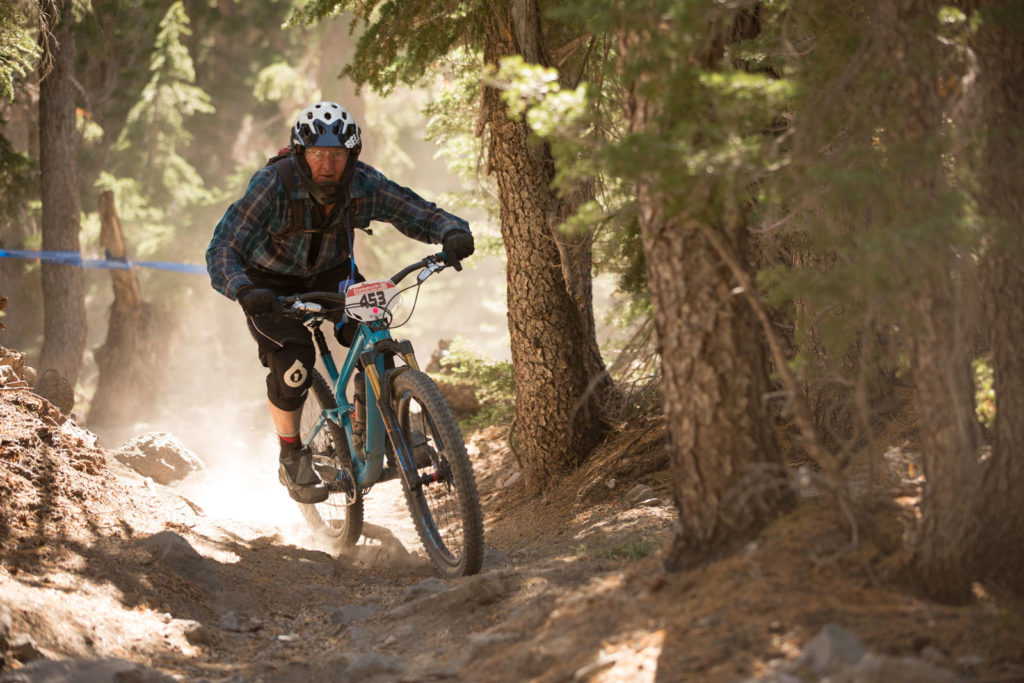 Stage 3: Brake Through to Flow to Smooth Operator • 2.8 mile
Starting off on Brake Through for the third stage of the day, riders veer off the trail partway down to cut through the Chair 20 face, an extremely steep and loose chunder field. It's no picnic once through this challenging section onto Flow as it's a straight shot through a gnarly rock garden (go around option available). The terrain on Flow is different from the typical "kitty litter" on most of Mammoth's other trails; pumice mixed with dirt makes for a powdery yet grippy run through tight, tree-lined singletrack. A wood ramp – known as Flow Drop – allows for a long launch or low send into a super high speed shred. Shortly after that, it's a log roller to a wall ride and plenty of jumps along the way. From the bottom of Flow, riders sprint up to Smooth Operator, a fast jump trail that culminates in a section of slippery, porous reddish dirt.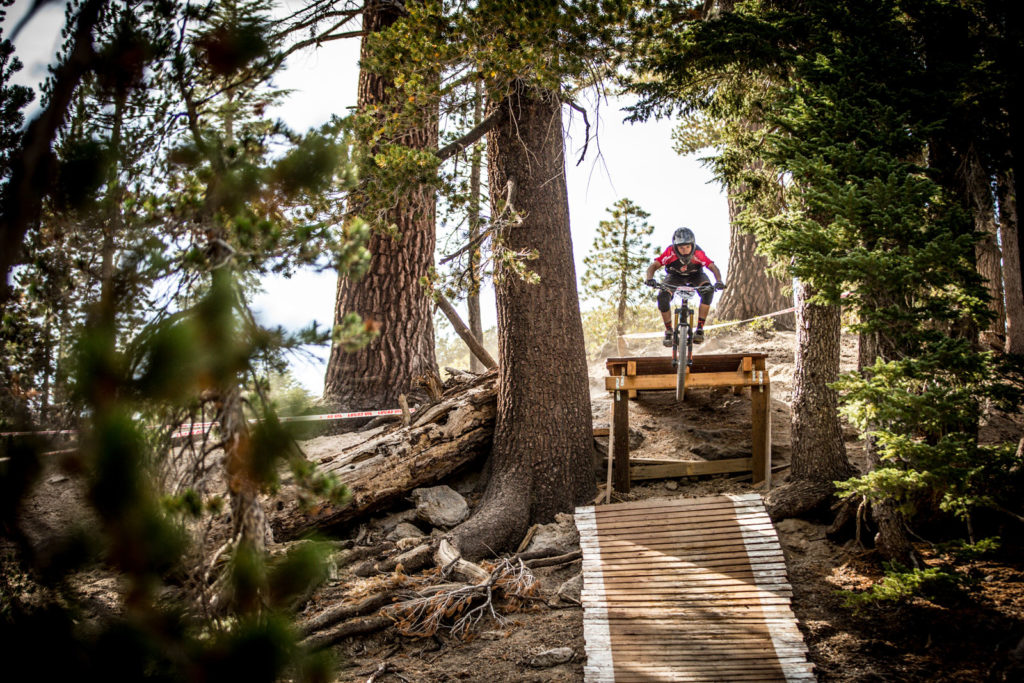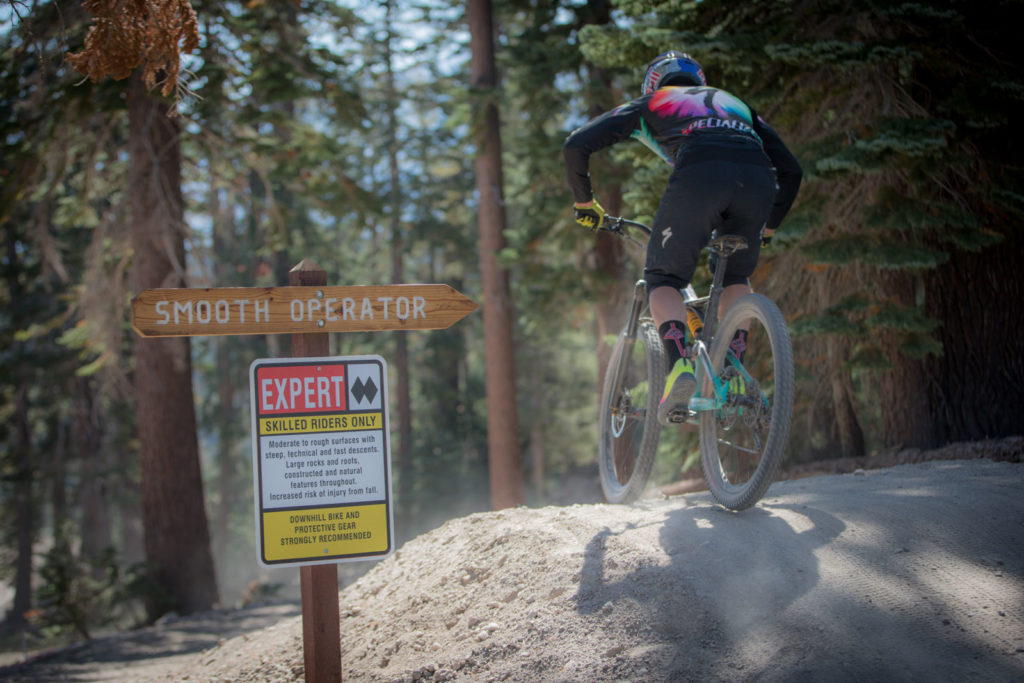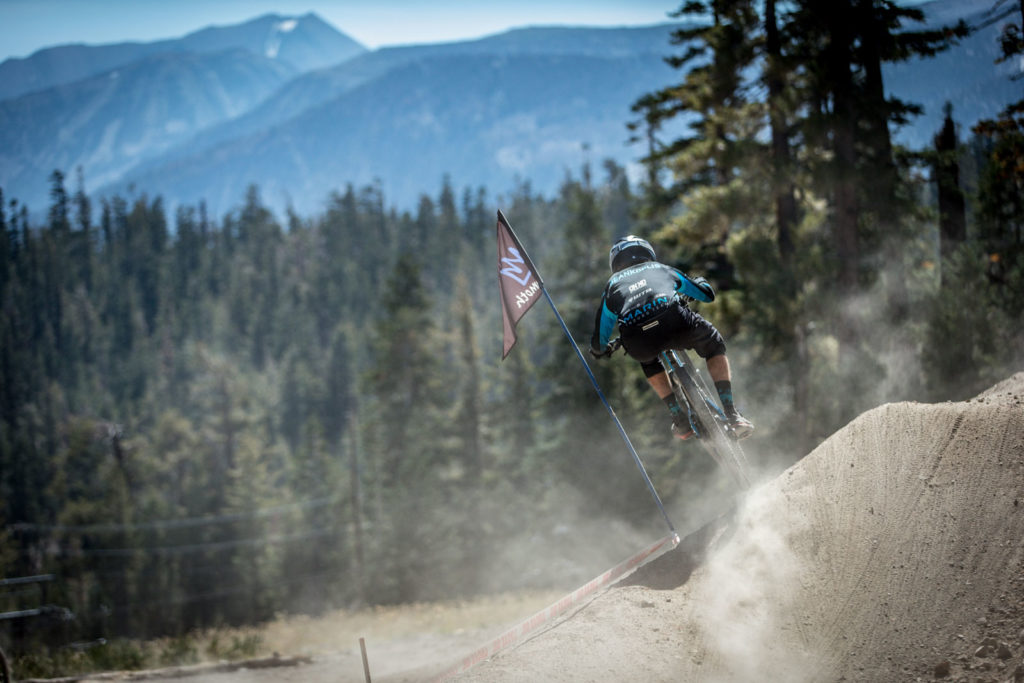 Stage 4: Skid Marks to Lincoln Express to Follow Me • 4.64 mile
And it was back to the top of the mountain for Stage 4, this time on Skid Marks which starts off steep with exposed technical switchbacks and sprints out of moondust corners that pit yourself against not only your fellow competitors but … yourself. How hard can you go? This stage is all about digging deep and tapping into whatever is in the reserves. After burning all that energy on Skid Marks, it's a pedally traverse on Lincoln Express, diving through tight trees along the way. A hard turn onto Follow Me takes riders on a smooth track boasting whoop after whoop to the Follow Me downhill section at the top of Chair 8. Steep and dusty, this section is a charge through rock gardens and trees on dirt unlike much else on the mountain. Riders exit down a steep rooty bit that's the cherry on top of this burly stage. This stage finishes the race for sport and beginner riders, while pro and expert racers push on to their final stage.
Stage 5 (Pro/Exp only): Bullet to Lincoln Express to Brake Through back to Bullet, finish on Elevator Shaft • 1.74 mile
Pro and Expert riders start off on pro line Bullet, but are diverted before the mid-trail rock garden for a good ole fashioned pedalfest on Lincoln Express, just to keep things exceedingly physical. Racers head down a pumice track through the trees, then off onto Brake Through to catch a sketchy, exposed corner before slipping back into the trees. Just when enough is enough of the pedally stuff, Stage 5 pops back onto Bullet at the Heart of Darkness – a steep, shady, dark section that delivers aggressive downhill through a highly technical rock garden offering three different line choices. After crushing softball-size rocks down the run, the trail opens up into a flowy track featuring pavers and roots. A wood bridge over Paper Route entices riders to send it up to 40 feet into dirt. A drifty corner sends riders sideways, and coming into Lower Bullet, the Dog House jump – a bridge over Gopher – offers another opportunity for air before shredding straight toward the Elevator Shaft through scattered rock gardens. At the top of the Shaft, the most skilled racers will ride off the face of the rock, while others take a more conservative route. But there's nothing conservative about the Elevator Shaft. Vertical, soft, powdery, fast; time to lay off the brakes and rip to the bottom … and through the finish line of the final stage of the Kamikaze Bike Games Enduro!