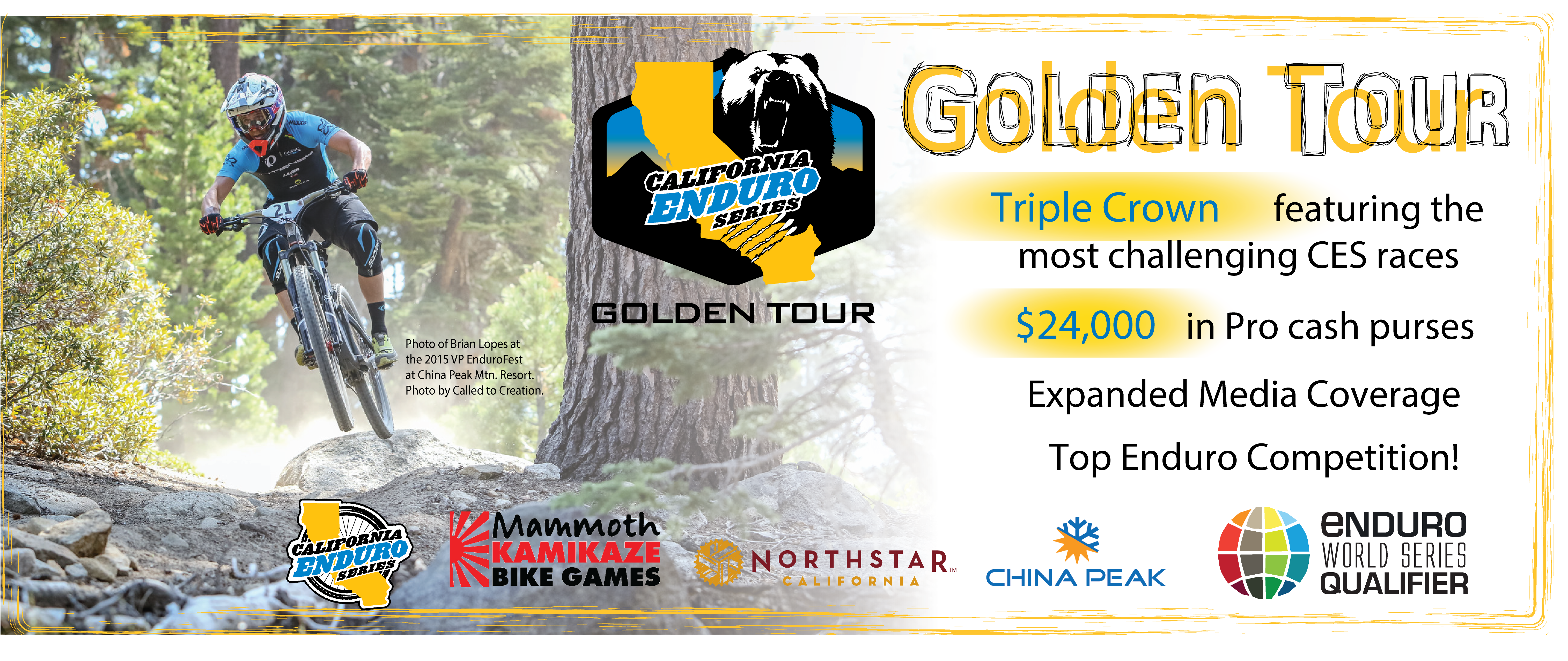 Pro triple crown set to showcase top talent and most challenging venues
Returning for 2017, the CES Golden Tour will showcase the three most aggressive stops on this season's schedule: China Peak Enduro on July 1, Northstar Enduro on August 26-27, and Kamikaze Bike Games Enduro on September 14-17.
The tour is a triple crown series within a series intended to spotlight top talent and events. This elite series will serve as a stepping stone to international competition for new riders and help established riders maintain a high average level of competition throughout the year. Boasting a  $24,000 overall prize list for the three events, each race is awarded a $4,000 cash purse to the top ten for both Pro Men and Pro Women categories.
Golden Tour points will be awarded in each of the three rounds according to the established CES points table, and will be scored as a series within CES for Pro Men, Pro/Open Women, and Open Men categories only. The Golden Tour represents an excellent opportunity for CES up and comers to test themselves on international level courses against some of the best in North America.
New for 2017, the three Golden Tour events are also Enduro World Series Qualifier Events.   Points from your top 3 EWS Qualifiers this season can earn you a spot on the reserve list for first priority registration for the 2018 EWS season – and we have 3 of them on the CES schedule.  More details about the EWS Qualifier can be found on the EWS website.  You need to be an EMBA Membership to earn EWS Qualifier points.
The Venues
China Peak Enduro

July 1, China Peak Mountain Resort in Lakeshore
China Peak Enduro will kick off the Golden Tour with a real test of skill and endurance. The event is well known as one tough test of endurance and technical skill with race times coming in at around four hours, and nearly 6,000 feet of climbing. The dusty, loose course features some of the fastest and rockiest racing the Sierra has to offer on hand-dug rustic trails. EnduroFest Race Director Erik Saunders says, "We are happy to again put on a race that has become a rider's favorite." Saunders adds, "The riders who are on the EWS all give us high marks for technically challenging and physically demanding courses on par with what they expect for a top level race."
Northstar Enduro

August 26-27, Northstar California Resort in Truckee
The Northstar Enduro offers a memorable two-day race on tough courses featuring meticulously carved berms, steep rocky sections, huge jumps, and plenty of off-camber challenges. CES Director Steve Gemelos says, "Northstar's mountain bike park is ranked as one of the best in the world and we're thrilled to include it in our Golden Tour line up."
The Kamikaze Bike Games Enduro will cap off both the Golden Tour and the series overall. Mammoth Mountain's legendary "kitty litter" terrain and technical courses will challenge the best of the best, pushing top athletes to the limit in their push to the podium. "In the whole evolution of Enduro racing we are very excited to be a part of the Golden Tour to help bring races like this to riders," says Kamikaze Bike Games Director Bill Cockroft. He adds, "While Enduro racing is not new by any means, it is still evolving, both riders and events, and we are excited to participate in that evolution."